Dream Home In India For NRI
Mood:
party time!
Now Playing: Rosedale NRI Garden
) NRIs for NRIs: Who knows better the pain, anxiety and emotion of a NRI than a fellow NRI. The two developers of Rosedale are from USA with 40 years experiences, committed to make a difference. Shrachi Group, well-known local partner also with them.
b) Location: Rosedale is a Garden Apartment Complex in a modern planned city, a future of Kolkata. It is not a 'sub-zero temperature in a blast furnace'; outside of Rosedale Complex is not-congested, no pollution. Newtown is open and airy with greeneries, lakes; far from noise and pollution, dust and smoke. Rosedale Garden will provide the cosmopolitan lifestyle with rural flavors. It is near to Airport, Saltlake City Center. You reach Rabindra Sadan faster from Rosedale Garden than Southern part of present Kolkata.
c) Government Partnership: HIDCO (Housing Infrastructure Development Corporation), a subsidiary of WB Government will monitor the construction and safety aspects of the project. The accountability from the construction companies will be best with direct Government involvement. HIDCO will transfer the apartment ownership papers directly to the legal buyers. You get Free and Clear ownership paper, hassle free!
d) Turnkey Delivery. The apartments will be sold furnished with many essentials, all inclusive for hassle-free living (not as a 'bare shell'). See details
e) Credibility: Understandably, NRI developers are successful in their own professional fields, and new in the housing development project with unblemished resume; they have many friends, well-wishers, role models in Kolkata and abroad. Many dignitaries such as (Ex) Chief Minister and Housing Minister of WB Government, US Consul, Secretary Maharaj of Ram Krishna Mission, Swami Jitmanandaji, Police commissioners, MD of HIDCO and many NRIs as distinguished guests were present at the inaugural ceremony of Rosedale Complex. Different news media gave raving reviews of the novel residential complex for NRIs by NRIs.
Rosedale is located in action area-3,Rajarhat . There are 6 towers of G+25 each.with all modern amenities needed for luxury living of NRIs and Indians.All flats will have ACs in all rooms andliving/Dinning,fully modular kitchen withrefrigerator,microwoven,dishwashers etc. and lot many.2BR/3BR/4BRdeluxe/duplexes are available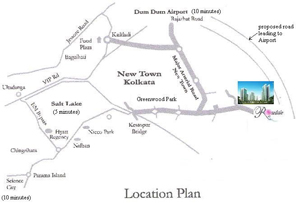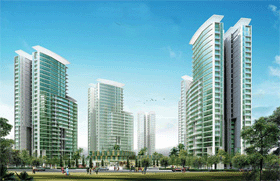 Posted by subirban at 11:49 AM
Updated: Thursday, 5 April 2007 11:58 AM